Today is Teacher Appreciation Day a.k.a. Teacher's Day czyli Dzień Nauczyciela a.k.a.Dzień Edukacji Narodowej. Whatever you call it, it is a day to bring something nice to school for your teacher(s).
I remember my first Teacher's Day in Poland. I was a teacher, and I did not know that it was Teacher's Day. I didn't even know that such a day existed. I also came to school on November 1st because nobody told me it was a public holiday. Anyhow, the kids in my first group gave me chocolates, flowers, best wishes and promptly informed me that we cannot have a "real" lesson in honor of Teacher's Day. They said we should play hangman and eat the chocolates. In honor of Teacher's Day, I would have much rather gone home and eaten all the chocolates myself, but when in Rome…
In my daughters' school they had a special assembly in honor of Teacher's Day, so they had to wear galowy strój today. Lizzie found a mug with her teacher's name on it. She was very happy to give it as a present along with a box a tea, some chocolates, and a homemade card. Her teacher has an unusual name, the kind of name you almost never find on a mug, so the teacher was pretty happy about it.She hugged and kissed Lizzie, said thank you and then immediately brewed up a cup of tea in her new mug. Lizzie was so proud. Lizzie's classroom teacher, the IT teacher, the English teacher, and the priest all got flowers as well. The parents of one of Lizzie's classmates own a flower shop. They played games the rest of day.
Rosie's group arranged to buy flowers and a box of chocolates for their teacher and for all the kids to make cards at home. They had a poem recitation contest for 1st graders and then played games the rest of the day too. I sent Rosie in with "The Itsy Bitsy Spider". She must have done a good job because Lizzie, Rosie and Misiu ran into one daddy from school at the supermarket and he said it was impressive. Great job Rosie!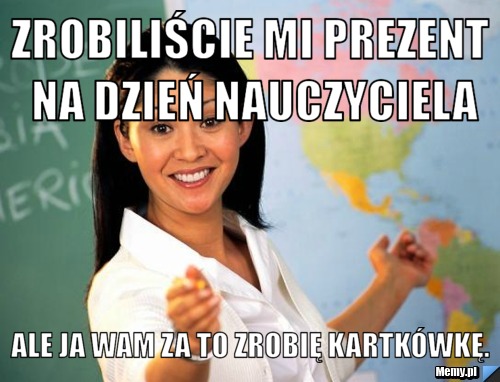 I am happy to report that there were no kartkówki today.